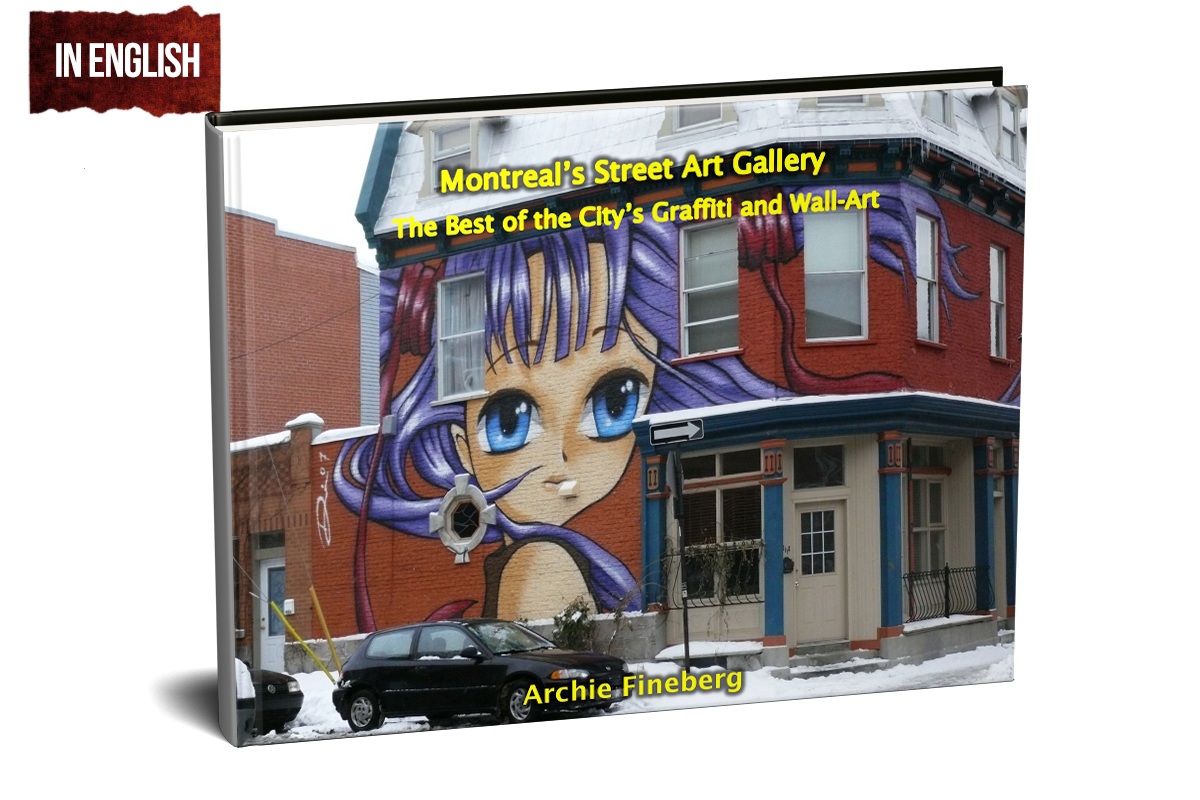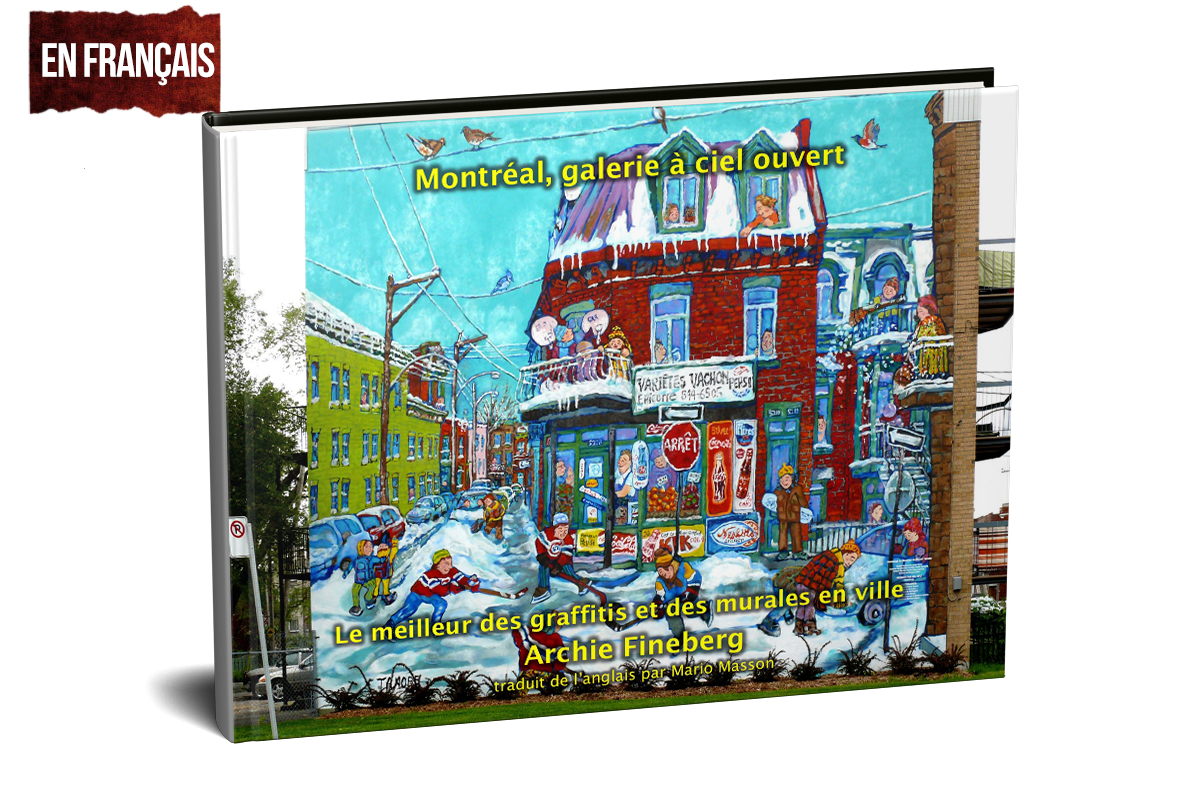 Montreal's Street Art Gallery; The Best of the City's Graffiti and Wall-Art and its French translation, Montréal, galerie à ciel ouvert; le meilleur des graffitis et des murals en ville, by Archie Fineberg showcase the work of many talented artists, both amateur and formally trained. The books feature more than 140 high definition, full-colour images of works created primarily with spray paint and brush, as well as mosaic and ceramic tile, paper, wood, abstract sculpture and knitting yarn. All the pictures are accompanied by captions that provide the title of the works, their location and the artist(s) who created it. An essay that elaborates on a specific aspect of this genre of art begins each of the nine sections.
Montreal's Street Art Gallery : The Best of the City's Graffiti and Wall-Art, et sa traduction française, Montréal, galerie à ciel ouvert : le meilleur des graffitis et des murales en ville d'Archie Fineberg, mettent en valeur le travail de nombreux artistes talentueux, tant amateurs que professionnels. Chaque livre propose plus de 140 reproductions, pleine page, d'œuvres hautes en couleurs, créées essentiellement avec des pinceaux et des bombes aérosol, mais aussi avec des tuiles de céramique, du papier, du bois, des sculptures abstraites et même des tricots. Elles sont toutes accompagnées du titre de l'œuvre, de son emplacement et du nom de ou des artistes qui les ont produites. Chacun des neuf chapitres qui composent ces livres débute par une réflexion qui souligne la spécificité des œuvres que l'on y trouve, de manière à guider le lecteur dans sa découverte de ces formes uniques d'art contemporain.
Inside The Book / Sous la couverture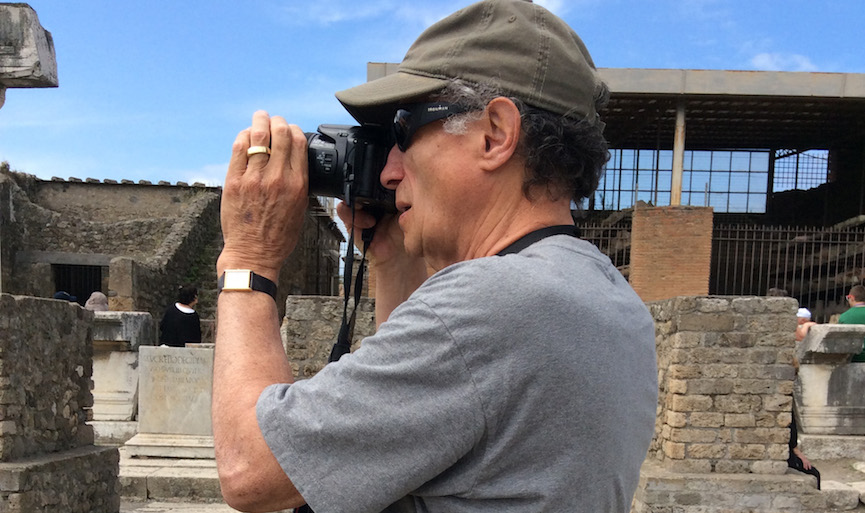 Photo credit: Elaine Kalman Naves
My interest in urban art began in the spring of 2007 when I became aware of a growing presence of wall-art in the streets of Montreal. Curiosity piqued by the brightly coloured, often fanciful murals, wild-style tags and expressions of social commentary, I was fascinated by the skill and aesthetic sensibility that were evident in the work, and much taken by the adeptness with which large images, often of great intricacy, were created on a variety of surfaces. That summer I crisscrossed the island of Montreal, photographing scores of images and in the process becoming familiar with neighbourhoods I barely knew. The summer of 2007 yielded some 150 photographs that formed the basis of a successful exhibition in 2008. My original foray and follow-ups between 2012 and 2016 resulted in a sizeable collection of images. My books feature many of them. Since July 2017 when I began to place the English edition in a variety of retail locations, it and the January 2018 French translation have had an enthusiastic reception.
Mon intérêt pour l'art urbain commence au printemps 2007, alors que je constate la présence grandissante de murales dans les rues de Montréal. Ma curiosité est d'abord piquée par leurs couleurs éclatantes et leur imagination débridée, de même que par les commentaires sociaux et les clins d'œil politiques qu'elles contiennent; puis je deviens fasciné par l'esthétique de ces œuvres souvent complexes créées, avec un rare talent, sur une variété étonnante de surfaces. Cet été-là, j'ai quadrillé l'île de Montréal de long en large. Et j'ai pris une grande quantité de photos, au total 150, qui ont formé la base d'une exposition fort réussie en 2008. J'ai poursuivi cette exploration entre 2012 et 2016, avec pour résultat, une collection appréciable de clichés. Ces livres en sont la vitrine. Depuis juillet 2017, alors que j'avais commencé à placer l'édition anglaise en divers points de vente, elle avait reçu, tout comme la version française parue en janvier 2018, un accueil enthousiaste.
Get In Touch
Montreal's Street Art Gallery is available in 40 retail outlets, including:
The Boutique and Bookstore of the Montreal Museum of Fine Arts
Bibliophile
Indigo, Place Montréal Trust
Librairie Bertrand
Librairie Monet
Où aller
Montréal, galerie à ciel ouvert est disponible dans 40 points de vente, dont :
La Boutique-Librairie du Musée des beaux-arts Montréal.
Bibliophile
Indigo, Place Montréal Trust
Librairie Bertrand
Librairie Monet